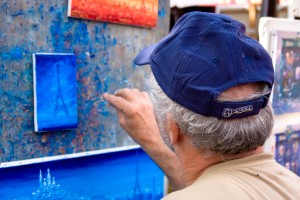 I may have some talent, but it won't get me very far. It might open doors. It might not. The world can be a fickle place, and it's true that there are many, many people who are more talented than I. If, then, talent isn't enough to get me very far, what is?
I would argue that persistence is. Endurance is. Discipline and commitment are. It's akin to the race of the turtle and the hare. The hare may have the talent – the gift of quick feet – but he doesn't have the mindset to stay the course. His talent leads him astray. It convinces him he can rest his feet on a settee and drink hot cocoa because his competitor can never, ever catch him. As he dozes off, he becomes aware of the crowd roaring. He stumbles to his feet, but it's too late. He can never catch the turtle who has made it within inches of the finish line. The turtle has what the hare does not: an unwavering commitment to staying the course, to being persistent, to enduring despite knowing how much better and naturally gifted his competitor is, to using what talent he has and extending it further and further.
That is the thing with talents: they have responsibilities attached to them. To be given a talent is to be given responsibility. If the talent isn't tended to, it withers or is outshone by people who do work with what they're given. Talent may come naturally, but it still requires work. Even prodigies have to work with and on their talents. They have to continue to challenge themselves. They have to reach toward new heights. They can't be content with staying at the same, flat, safe level; to do so is to be content with mediocrity, and mediocrity will not do. This is a race, and it's a race designed for multiple winners. It's simply that the winners have to to do the work. They have to choose to endure despite the hardships and the temptation to rest upon their talents. It's to choose to persist and to be self-disciplined and diligent. It's to put on the running shoes day after day after day and to run to the best of their ability. It's to rest when needed, but it's to do so with the understanding that rest is essential to their growth and their talent or talents.
What do you think? Is talent enough?
Image: Eric Magnuson (CC BY NC SA 2.0)