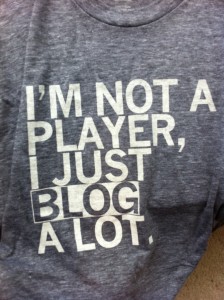 I can't answer the question "Should I have a blog?" in a resounding affirmative. That may be a strange answer to some. I think, though, that many people and businesses have blogs because they feel or have been told they should have one. They then stumble their way around blogging because they don't know why they have a blog or what to do with it.
The "why" or the "so what" are integral to blogging. The why has to be addressed long before a blog is enacted. The following questions might be helpful in answering the why:
Why do I think I should I have a blog?
What good will it do?
What do I hope to gain from blogging?
Most people know the pat answers: SEO value, search engine rankings, fresh content for visitors. Those answers aren't enough. For instance, I sometimes ask clients if a blog – and by "blog" I mean the stereotypical one with words and an image or two – is truly what they need. I typically ask the question because the client has indicated that he or she hates writing and already feels overwhelmed by the prospect of coming up with ideas and writing content. When I know a client has that angst, I ask them if they've considered other options such as video, podcasts, and even images (think a Pinterest-style blog). That client will still have to use text at varying points for the SEO value, but giving them an option besides a text-heavy blog sometimes is exactly what they need. Something clicks, and they begin to see how a video or imagery could impact their business in beneficial ways, i.e., traffic converting into leads and customers.
If the "why" has been answered, stumbling may still occur. Even if the blog has been tied to the overarching business' aims, the blog still has to have some sort of content strategy. Without it, the person or people responsible for the blog sometimes fall prey to the "shiny object" syndrome. They write about what is popular because they think it will drive traffic to their site. It might, but it's more likely to increase the bounce rate. People come to a website looking for answers to their problems. If the blog doesn't tie into the business' main offering, people won't stay. They won't share. They'll come to associate the business with unfulfilled expectations. For that reason, the content found on the blog, even if it's predominately an image-filled one, has to tie into the larger picture. It has to, at some point, begin to drive visitors to take an action and to become a lead or a customer.
"Should I have a blog?" Yes, but only if the why and the how are addressed first. Thoughts?
Image: J. Money (CC BY 2.0)