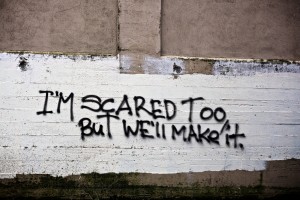 heebie-jeebies [coined by American cartoonist Billy DeBeck]: jitters, willies
When I'm about to give a speech or a presentation or am about to attempt some new feat, I experience the jitters, the willies, the heebie-jeebies.* Such emotions aren't new, and I've learned to face them. Sometimes, the facing requires defensive maneuvers; other times, it requires offensive.
Defensive maneuvers include things like taking off my medical alert bracelet and my ring before I make a presentation. I've actually outgrown the need to do that, but my early speaking days required the act. If I didn't, I'd twist and twist the ring around my finger or shuffle the bracelet up and down my arm or twirl it around my wrist. Such movements cost me; they cost me in terms of authority, and they cost me in terms of attention. To keep the attention on what I was saying and to make myself more believable or authoritative, I stopped wearing jewelry to speeches and presentations until I felt confident enough to wear it while speaking.
To go on the offensive is to press my attack. I become increasingly persistent. I let the self-deprecation and lack of confidence slough off to reveal what some would call an adamant or stubborn nature. I become fierce and square off. I aim my punch or kick and land them – not glancing blows but ones that knock whatever is standing in my way to the ground. I leave that thing on the ground and move forward. If I had one lesson drilled into me more than any others during my martial arts days, it's that I don't stick around to see what the felled person or thing is going to do. I get out of there and continue pressing onward.
How do you handle the heebie-jeebies?
*John Trader challenged me to use "heebie-jeebies" in a blog post title. If you would like to make your own challenge, now's your chance. Leave one in the comments or tell me on Twitter.
Image: Christopher Cotrell (CC BY NC SA 2.0)