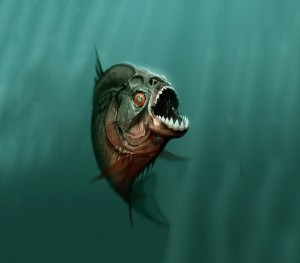 When I say, "Don't feed the piranhas," I mean, "Don't feed the paranoia." The two words have similarities outside both beginning with the letter "p"; feeding either only increases the frenzy of the paranoia and the piranhas. They get a taste of blood and flesh and go in for the kill and, in so doing, produce madness, mayhem, and broken relationships or business partnerships.
The inherent problem with paranoia, unlike the physical reality of a piranha, is that the feeling is built on mistrust and assumptions. I assume a person is doing something without my knowledge or thinks such and such a way. I don't know either of those things as facts; I trust my judgment even though it is notably limited and clouded. I only see a small part of the picture yet form an entire picture based on it. When I look at the real photo and not the one I've imagined, it's out-of-focus and has paid attention to all the wrong things. I can't see this; I'm too close to whatever facts I think I know. I've already become paranoid and worry about every little thing despite knowing such an attitude leads to a feeding frenzy and eventual disaster with any type of relationship.
The only way I've found to combat the paranoia and the piranhas is not to give sway to mistrust or assumptions. I ask questions. I admit when I don't know a thing or am worried even if I fear doing so won't be to my benefit. More often than not, I'm proved wrong on that point. My lack of knowledge isn't the issue; the issue is my refusal to admit weakness. If the other person doesn't respond well to the admission, it's no longer my issue. It's that person's, and, while a feeding frenzy may still occur, it won't be because I let the piranhas out of their holding tank. I did what I was supposed to do. I fought the paranoia and kept the piranhas at bay.
Image: Sweetie187 (CC BY 2.0)