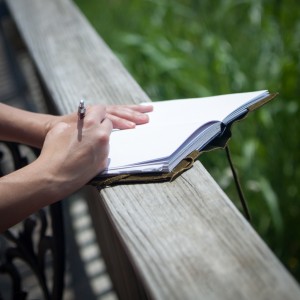 I know the importance of being still, but I'm no good at it. I try to be, but it's a struggle. I'm followed by various tracks of questions put on repeat: "What do I do next? What should I be doing? Am I doing the right thing? How do I know if I'm doing the right thing? If I'm not doing the right thing, what should I be doing? What should I be pursuing? What about that person? Did I offend that person? Why is he or she being quiet? What should I do?" The questions aren't easy ones to answer – they often are impossible to answer – yet the perfectionistic, impatient person I am wants answers right now. The more I think about how I don't have the answers, the more frustrated and worried I become. I turn into the polar opposite of stillness. I'm on edge, jittery, cranky.
If I try to force myself to be still when I feel like that, the problem only exacerbates. I'm not only worried and frustrated by my lack of direction, but I'm also worried and frustrated by the fact that I can't seem to still. I know this about myself, so I find the things that can bring me to a place of stillness.
Those things are simple. They are art, reading, writing, and music. They even sometimes are running if I can pound out enough of my frustrations and worries and obsessions within the first few miles. Writing, usually poetry but sometimes written-out prayers, produces a stillness. Poetry allows me to focus on one thing and that thing alone. I don't worry about rightness or how it affects my business efforts. Poetry is a reprieve from all that. Art acts similarly even if the art usually is related to Write Right. Creating a new adventure for the Write Right girl results in a sort of calm as I listen to music and begin to lay out elements on the page. The calm persists as I spend the next three to five hours working on that art.
The strange thing about poetry, writing out my prayers, and drawing? They don't always bring answers to the questions swirling in my head, but they do offer a sense of rightness in and of themselves. They bring stillness for a few minutes or hours. They strengthen a feeble, discouraged heart. Sometimes, that is enough.
Image: Walt Stoneburner (CC BY 2.0)